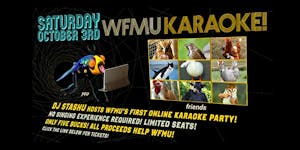 DJ STASHU hosts WFMU's first ever online KARAOKE PARTY!
WFMU ZOOM KARAOKE
SING OUT WITH STASHU IN SUPPORT OF WFMU!
This isn't your typical zoom meeting no actually it's a private karaoke room and you get to be trapped with Stashu for a few hours! We're gonna have fun, pick a song and get ready. Stashu might even wear a funny costume, in fact it's very likely.
YOU'VE HEARD OUR VOICES, NOW LET'S HEAR YOURS! Join WFMU's DJ Stashu for a non-polka-related-but-still-incredibly-fun evening of online KARAOKE, where our listeners get to shine like the bright, shiny things they are! Choose a song and sign up to "sing"! You'll receive a link to join the Zoom meeting which begins at 7 o'clock on Saturday, October 3rd. Join us for a truly unique karaoke experience, which through advances in technology, may actually increase strength in all your major cringe muscles. Hope to see you at the party!
Email your Name and song choice in advance here: party@wfmu.org
Please note for ticket purchases if your paypal is not connecting, please use a credit card.
SONG SELECTION
*starred selections are taken
4 NonBlonds- What's Up
Aerosmith - Dream On
Al Green - Let's Stay Together
Alice Cooper - Lost In America
Alice Cooper - No More Mr Nice Guy*
Alice Cooper -I'm Eighteen
B52's - Love Shack
Beastie Boys - Fight For Your Right To Party
Beastie Boys - No Sleep Till Brooklyn
Big Star - September Gurls
Billy Idol - White Wedding
Billy Paul - Me And Mrs Jones*
Black Sabbath - Children Of The Grave
Blood Sweat And Tears - You Make Me So Very Happy *
Bob Dylan - Like A Rolling Stone
Blue Oyster Cult - Don't Fear The Reaper*
Bob Marley - Redemption Song
Bobby Gentry - Ode To Billy Joe
Bonnie Tyler - Total Eclipse Of The Heart*
Brian Eno - Dead Finks Don't Talk*
Brian Eno - Needle In The Camel's Eye*
Bruce Sprinsteen - Born To Run
Buzzcocks - Ever Fallen in Love
Buzzcocks - What Do I Get
Cee Lo Green - Fuck You
Chris Isaac - Wicked Game
Chumbawamba - Tubthumping
Crowded House - Don't Dream It's Over*
Danzig - Mother*
David Bowie - Life On Mars*
Dead Boys - Sonic Reducer
Dead Milkmen Punk Rock Girl
Edwyn Collins - A Girl Like You
Five Man Electrical Band - Signs
Foghat - Slow Ride
Frank Sinatra - Somethin' Stupid
George Michael - Careless Whisper
Gloria Gaynor - I Will Survive*
Grand Funk Railroad - I'm Your Captain
Grand Funk Railroad - We're An American Band
Hank Williams - Lovesick Blues*
Human League - Don't You Want Me Baby*
Ian Dury - Hit Me With Your Rhythm Stick
Iggy Pop and The Stooges - Wanna Be Your Dog
Iggy Pop And The Stooges - Search And Destroy
Iggy Pop - Lust for life
Iggy Pop - The Passenger
Jay-Z feat Alicia Keys - Empire State Of Mind
Jimmy Martin - Will The Circle Be Unbroken
Joan Jett - I Love Rock And Roll
Johnny Cash - Folsom Prison Blues
Johnny Cash & June Carter - Jackson*
Johnny Cash - (Ghost) Riders In The Sky
Johnny Cash - Ring Of Fire *
Jonathan Richman and the Modern Lovers – Government Center*
Joy Division - Love Will Tear Us Apart
Joy Division - Transmission
Kenny Rogers and Dolly Parton - Islands In The Stream
Lipps Inc - Funkytown
Lynyrd Skynyrd - Sweet Home Alabama
Mariah Carey - Vision Of Love
Marvin Gaye - Let's Get It On
Metallica - Enter Sandman
Motorhead - Ace of Spades
Neil Young - Southern Man
Neil Young - Cinnamon Girl
New York Dolls - Personality Crisis
Otis Redding - (Sittin' On) The Dock Of The Bay*
Outkast - Hey Ya
Patti Smith - Dancing Barefoot*
Paul McCartney & Stevie Wonder - Ebony and Ivory
Pete Shelley - Homosapien
Prince - Purple Rain
Prince - When Doves Cry*
Radiohead - Creep*
Rammstein - Du Hast
Ray Charles - You Don't Know Me
Roger Miller - King Of The Road*
Roxy Music - Love Is The Drug*
Roxy Music - Virginia Plain
Sex Pistols - Pretty Vacant
Shirley & Company - Shame, Shame, Shame
Simple Minds - Don't You Forget About Me
Siouxsie & The Banshees - Spellbound*
Sonny & Cher - I Got You Babe
Stevie Wonder - Don't You Worry 'bout A Thing
Stevie Wonder - Master Blaster
Stevie Wonder - My Cherie Amour
Stevie Wonder - Superstition
Tears For Fears - Everybody Wants To Rule The World
Tenacious D - Tribute To Karaoke*
The Clash - London Calling
The Eurythmics - Sweet Dreams Are Made Of These
The Fall - How I Wrote Elastic
The Kinks - Apeman
The Only Ones - Another Girl Another Planet
The Undertones - Teenage Kicks
Van Halen - Jump
Van Halen - Runnin With The Devil
Willie Nelson - Don't Let Your Babies Grow Up To Be Cowboys
Venue Information: