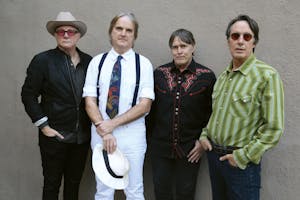 The Long Ryders
Sarah Borges & Eric "Roscoe" Ambel
$20.00
Tickets At The Door
The Long Ryders take their unique take on roots music to Jersey City. They'll be playing songs from Psychedelic Country Soul and old faves
The Long Ryders were formed in 1982 by young American musicians influenced by Gram Parsons, C&W, Sir Doug Sahm, and the energetic punk scene found in their hometown of Los Angeles. The Long Ryders were a near-perfect anecdote to formula stadium rock and wimpy synth-pop. The band featured Sid Griffin on guitar, autoharp, and harmonica, Stephen McCarthy on guitar, steel guitar, mandolin, and banjo, Tom Stevens, bass, and Greg Sowders, playing drums and percussion. With a sound reminiscent of the Buffalo Springfield and The Flying Burrito Brothers, but with a harder edge, they anticipated the alternative country music of the 1990s by a decade.
It was a warm spring day and the cherry blossoms were in full bloom as tourists enjoyed the nation's capital. But after sundown downstairs at the Hill Country Barbecue, things were dark and rowdy at Sarah Borges and Eric "Roscoe" Ambel's joint show. Like a blended family, Ambel tours with Borges and the Broken Singles, playing some of each's songs and staying together onstage for the night. There had been a private party and some of the people were lingering afterward to see the show, and the merch table had little orange lights beckoning. People were talking amongst themselves as the room began to fill.
As Sarah Borges took the stage with Eric Ambel – with Binky of Boston on bass and Ed Arnold on drums — she told the rapidly filling room that the band was "good and warmed up," a veiled reference to her recent EP Good and Dirty. Arnold lit into a commanding drum pulse that let everyone know there was no mistaking this would be a rock show, one on the rock 'n roll side of, well, rock. "Streetwise Man" from Borges' album Silver City was the opening number, followed by "Same Old 45" from the same record. People from the crowd were already sidling toward the stage and cameras were abundant. Borges complimented Binky by saying he looked particularly lovely tonight, and the band played "Caught By the Rain," from Good and Dirty, a song with lyrics about being pulled over by the cops and punctuated music drenched with regret.
Three songs from Ambel's repertoire were up next, as he mentioned he had recently released a sampler cd, aptly named Roscoe Sampler (read more about this release, by clicking right here). "Song For the Walls" was a power number from his Loud & Lonesome album, and afterward there was some lighthearted teasing, where Borges let the audience know that this next song was something of a theme song for the band on long drives: "Have Mercy;" another of Ambel's crushingly potent numbers from his 2016 Lakeside (Last Chance) release, produced by Jimbo Mathus. For the next song, Ambel complimented Borges' great vocals as the band performed "Loose Talk," from Ambel's album Roscoe's Gang (produced by Lou Whitney, the recorded version with Syd Straw of Pat Benatar fame on vocals).
It was Ambel's turn once again and couples were unbridled, whirling madly on the dance floor to "Massive Confusion," and then "Judas Kiss," during which Ambel flat out flaunted his sick rock guitar prowess. This is a song which any Ambel fan would rate as one that most demonstrates his rock sensibilities. Then a J. Geils song covered by Borges "Cry One More Time" and the rhythm section totally rocked this one too. NRBQ's "It Comes to Me Naturally" (I can't quit it) is one of Borges' catchiest interpretations and people acted out that truth on the dance floor some more.
Ambel's "Total Destruction To Your Mind" is his bold interpretation of Swamp Dogg's song, remember, from the album where he's sitting in his underwear on a pile of garbage. Yeah, that one. The drummer was dead on, and with another smokin' solo by Ambel, the room, hell the block, wasn't big enough to contain it. There aren't many players like him, and if you haven't seen him, you must.
Melissa Clarke/Americana Highways
Venue Information:
Monty Hall
43 Montgomery Street
Jersey City, NJ, 07302