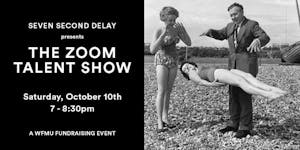 Join Ken and Andy and a cavalcade of talented listeners for the first and last ever Seven Second Delay Zoom Talent show.
It's a benefit for WFMU but don't think that Seven Second Delay's standards will be raised by that inconvenient fact. Bands! comedians! circus performers! Not only will Ken and Andy also be performing, but the audience will be able to vote on the evening's winner, with a winner take all cash prize! And by "winner take all," we mean of course, winner take 25%.
Zoom link will be sent the day of the show.
Please note for ticket purchases if your paypal is not connecting, please use a credit card.
Venue Information: