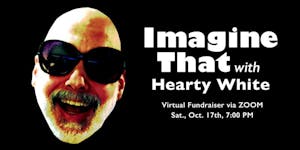 WFMU Presents Hearty White LIVE Zoom Event
Imagine That with Hearty White
Imagine That with Hearty White
Join Hearty for an hour long live visit from his secret club house in Kentucky, where he'll tell stories, have fun visitors, and explore our limited but wonderful imaginations! If you haven't had the chance to go to one of his annual Monty Hall performances, this is the next best thing.
Zoom link will be sent the day of the show.
Please note for ticket purchases if your paypal is not connecting, please use a credit card.
Venue Information: