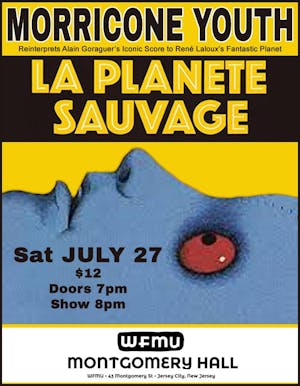 WFMU Movie Night with CoolVines
Fantastic Planet Featuring a live performance by Morricone Youth
$12.00
Tickets At The Door
FANTASTIC PLANET, Featuring Alain Goraguer's iconic score performed by Morricone Youth and Partnering with CoolVines of Jersey City.
Nothing else has ever looked or felt like director René Laloux's animated marvel Fantastic Planet, a politically minded and visually inventive work of science fiction. The film is set on a distant planet called Ygam, where enslaved humans (Oms) are the playthings of giant blue native inhabitants (Draags). After Terr, kept as a pet since infancy, escapes from his gigantic child captor, he is swept up by a band of radical fellow Oms who are resisting the Draags' oppression and violence. With its eerie, coolly surreal cutout animation by Roland Topor; brilliant psychedelic jazz score by Alain Goraguer; and wondrous creatures and landscapes, this Cannes-awarded 1973 counterculture classic is a perennially compelling statement against conformity and violence.
Dir. René Laloux. 1973. 72 mins. English subtitles.
Morricone Youth is a New York City band formed in 1999 dedicated to composing, re-interpreting, performing and recording "music written for the moving image."
CoolVines will be partnering with WFMU Montgomery Hall (aka Monty Hall) for their Summer Movie program! You will be able to purchase your movie ticket through this event link ($15 per ticket) and add your beer and/or wine by choosing from the selection below! All beverages will be delivered to you at the venue. CoolVines Events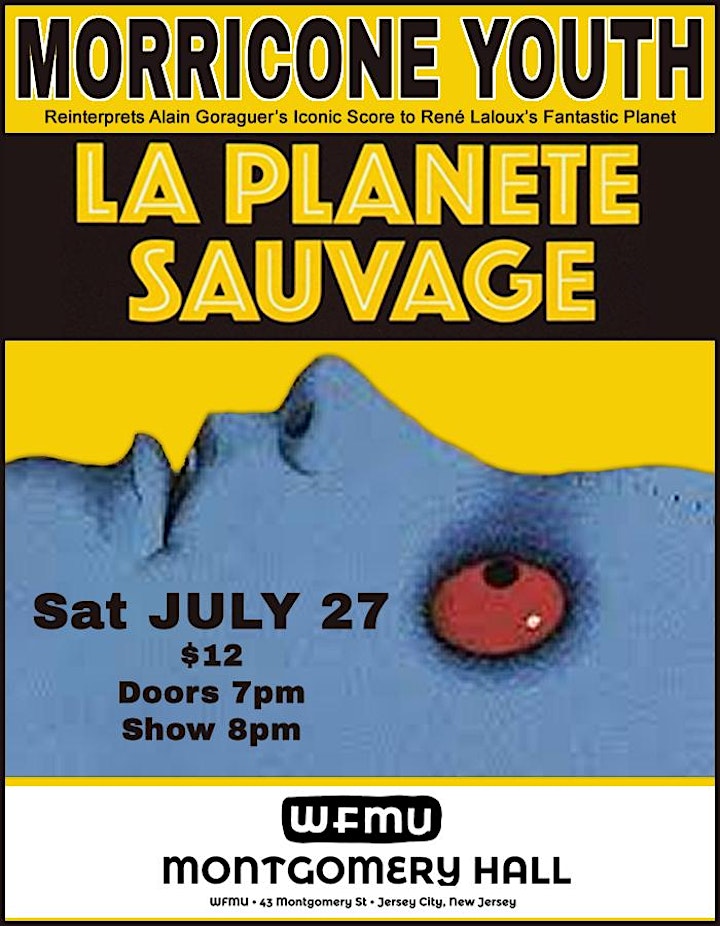 Venue Information:
Monty Hall
43 Montgomery Street
Jersey City, NJ, 07302